Bass....
At that time around '74/'75 I bought and listened to a lot of music. Somewhere around '78/'79 I got in contact with the music of Japan. I already started years before with playing guitar and bass. The bass player of Japan Mick Karn (R.I.P.) developed a very distinguished and extravagant sound. I wanted that to. So I bought my first fretless bass and from that moment on I knew I was a bass player.

There was a time that I purely played fretless and nothing else. Nowadays I play both again, fretted and fretless. Each has its charme.

Over time I switched from 4 to 5 string basses and nowadays I even own and play a six string. My style is mostly "finger picking".
Why do I do what I do....
Mainly because I like to make music extremely. No matter what I do. Playing in a regular band or as a 1 time substitute in another band. I just love to perform and make an audiance laugh and dance. Just see here for yourself to get a small impression.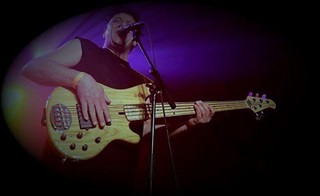 Performing...
It would be just vanity to make up a list of performances here. Tripodia, Musicon,smalle and big parties, small and big bars and clubs, I did them all, some special and others to be forgotten very quickly. But I have to name 1 because I've performed there and that's a place were usually only very big artists play there. I had the lucky opportunity to play live at Carre, Amsterdam. That performance was 1 of few highlights in my "career" as a musician. 2 hours later Van Morrison performed on that same stage. Even during the soundcheck it was great, the sound engineer asked me to play solo so he could make a good mix. In that empty hall I heard myself like I never heard myself before. It maybe wasn't the best performance, but it certainly was the most memorable one.




Of course that's the same with fellow musicians. I played with a lot of them some good and others not so good. But everything to get a good and impressive performance.Nowadays I play two bands, a blues rock band called The Bullfrog Blues Band and a cover band based on improvisations. There is 1 agreement in this band and that is that there are NO agreements...
..
Back to the
BEGINNING...